TeamT5, a leading cybersecurity firm, has recently published a report to share insights and suggestions on how Japan can face cyber attacks during the G7 Summit in Hiroshima, Japan. TeamT5 suggests enterprises/organizations should have comprehensive control over current events and industry attack trends. Strengthening monitoring and staying updated with the latest intelligence is crucial in order to respond to potential attack incidents.
Due to recent world events, prior to the G7 Hiroshima Summit, which was held May 19-21, Japan experienced a surge in cyberattacks, mainly targeting the Cabinet Offices and the local governments of Osaka, Aichi, Kumamoto, and Nara, as well as companies such as West Japan Railway and Tokyo Electric Power Company Holdings.
TeamT5 also identified multiple G7-related attacks.One such attack was a spear-phishing campaign against government entities of G20 countries by GuDiao. TeamT5 identified a G7-themed decoy and GuDiao's proprietary downloader, StartIE in the email. Further analysis of the incident suggested that GuDiao exploited CVE-2023-0669 to compromise a server and use the server as the C2 of this campaign.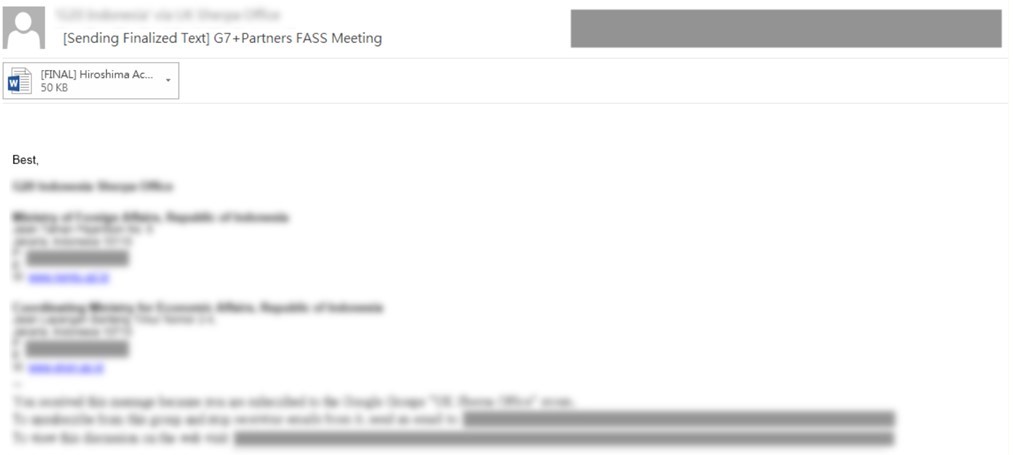 Sample 1
Sample 1 is a spear-phishing email. In the email, the actor attached a Microsoft Word document with a malicious template embedded with StartIE. The Word document was a decoy with content related to the recent G7 Summit in Hiroshima. TeamT5 is participating in Japan's Interop23 and will demo its groundbreaking cyber solution, ThreatVision, which is aimed at empowering enterprises in anticipating and countering cyber threats. In today's digital landscape, proactive defense is paramount, and TeamT5's innovative approach provides businesses with the tools to stay one step ahead of malicious actors.
About TeamT5
TeamT5 consists of top cyber threat analysts with more than 20 years of experience. We provide cyber threat intelligence reports and endpoint scanning solutions to Asia Pacific clients such as government agencies, financial businesses, and telecom operators. TeamT5 is frequently invited to share insights at Black Hat (USA), Code Blue/AVTokyo (Japan), and other important industry seminars.