In today's digital landscape, cybersecurity has become one of the most critical concerns for governments and companies worldwide. With the rise of sophisticated cyber threats, such as Advanced Persistent Threats (APTs), organizations need robust and specialized tools to combat these evolving dangers effectively. This is where TeamT5's ThreatVision comes in, offering unparalleled expertise and intelligence to help governments and enterprises in the Asia-Pacific.
The Power of TeamT5 and ThreatVision
TeamT5, renowned for its Asia-Pacific-centered intelligence professional team, has been at the forefront of researching cyber threat intelligence in the region for over a decade. Our Chinese language proficiency and geopolitical knowledge, coupled with ten years of experience in malicious code and APT research, have granted us a deep understanding and research capabilities of APT hacker groups, particularly those originating from China. Our expertise has earned us invitations to world-class conferences, further solidifying our reputation as the top choice for Asia-Pacific APT intelligence, especially for those looking to defend against China.
The Importance of Threat Intelligence
Threat intelligence plays a pivotal role in a company's cybersecurity strategy. It serves three key roles: assisting decision-makers, enabling risk managers, and supporting incident responders. TeamT5 recognizes the significance of each type of intelligence, including:
Strategic Threat Intelligence
Vital for C-level executives responsible for decision-making, strategic threat intelligence provides insights into an organization's threat landscape, identifies malicious actors targeting the organization, and sheds light on their objectives.
Operational Threat Intelligence
Crucial for SOC leaders and analysts, operational threat intelligence focuses on understanding hacker techniques and actively preventing potential threats.
Tactical Threat Intelligence
Essential for rapid incident response teams, tactical threat intelligence provides precise threat indicators to assess the current situation and take appropriate measures to mitigate the impact and resolve the situation at hand.
What Does ThreatVision Offer?
ThreatVision offers a comprehensive library of threat intelligence features to cater to various cybersecurity team members, enhancing internal collaboration and response efficiency.
Indicators of Compromise (IOCs): IOCs provide rapid threat identification and serve as essential clues for tracing attack sources within an enterprise.

Threat Hunting Tools: These tools offer direct detection capabilities to quickly understand the current environment and identify potential issues.

Intelligence Reports: TeamT5's most renowned resource, intelligence reports offer multi-dimensional analysis of hacker behavior, providing a deeper understanding of incidents and the motives behind hackers' actions.

Adversary and Malware Gallery: Contains a comprehensive library of first-hand files on malicious groups and programs, enabling organizations to understand threat sources.

RFI Service: Analysts provide customized reports and tool services to customers.

API Service: Allows for quick integration of platform resources to facilitate automation.
Meeting Customer Needs with Actionable Intel
ThreatVision addresses various customer needs through its diverse offerings:
Threat Identification and Technical Details
ThreatVision quickly identifies malware and adversaries and provides technical details, backgrounds, and attack methods commonly used by them. It serves as a one-stop intelligence platform for enterprise security teams, helping them allocate security budgets more effectively.
Auto-Analysis Sandbox Service
This service offers fast automated analysis, allowing users to choose specific samples for further manual analysis by TeamT5's expert analysts.
Customized Intelligence Investigation and Consulting Services
TeamT5 offers tailored services to meet intelligence investigation and consulting requirements.
Threat Hunting Tools and API Integration
ThreatVision's Threat Hunting Tools enable users to proactively confirm their own situation and ensure environmental security. The API service provides convenient access to intelligence, reducing the burden on personnel and facilitating integration into automated processes.
Actionable Intelligence Through Reports
ThreatVision's intelligence reports fall under three categories: APT in Asia, Vulnerability, and Cyber Affairs. These reports provide invaluable insights for decision-making and response.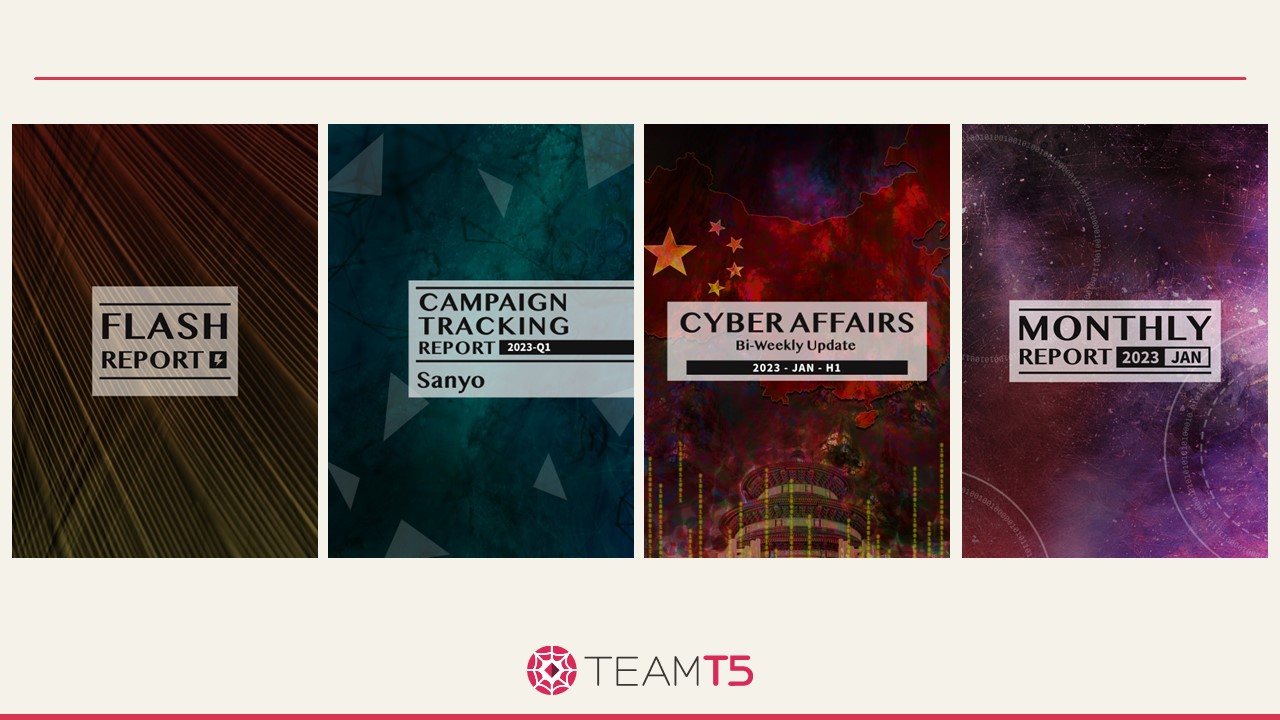 APT in Asia Flash Reports
TeamT5's APT in Asia Flash (aka Flash Report) provides timely, accurate, and actionable intelligence. Users can use Flash Reports to get just-in-time alerts of the latest APT intrusions. Flash Reports are published twice a week. Each Flash Report details a specific targeted attack and provides all essential IOCs.
APT Campaign Tracking Reports
APT Campaign Tracking Report (aka CTR) provides TeamT5's comprehensive understanding of significant threat groups and campaigns. Users can use CTR to enhance their knowledge of trends and challenges in the APAC region with a broader perspective. TeamT5 publishes two CTRs at the end of every quarter. Each CTR provides an in-depth analysis on a particular threat group/campaign, covering its TTPs, target scope, etc., over the past 2-3 years. Moreover, at the end of Q2 and Q4, CTRs provide an APT Threat Landscape report covering major incidents, popular TTPs, most targeted industries, and top malwares/APTs over the past two quarters.
APT in Asia Monthly Reports
TeamT5's APT in Asia Monthly (aka Monthly Report) provides strategic and actionable intelligence in the Asia Pacific region. Monthly Reports connect the dots between cyberattacks and recent political events, policies, and foreign affairs. Users can use Monthly Reports to understand the latest trends and the current threat landscape. Monthly Reports are published every month. Each Monthly Report summarizes 13-16 APT attack cases in the Asia Pacific region over the past month.
Cyber Affairs Biweekly Reports
TeamT5's Cyber Affairs Biweekly Report (aka Biweekly Report) provides strategic cyber intelligence about the Chinese-speaking cyber world. Users of the Biweekly Report can understand the cyber capabilities of the emerging superpower, China. The Biweekly Report is published every two weeks. Each Biweekly Report provides a quick recap of cybersecurity news in the Chinese-speaking cyber world, covering the latest policies, regulations, and cyber incidents.
Vulnerability Insights Reports
TeamT5's Vulnerability Insights Report (aka VIR) provides technical details about critical and highly exploitable vulnerabilities. Users can use VIRs to mitigate the threat posed by these critical and highly exploitable vulnerabilities. VIR is published every two weeks. Each VIR focuses on one critical and highly exploitable vulnerability. Moreover, VIRs depict the possible attacking scenarios and provide detection tools.
Patch Management Reports
TeamT5's Patch Management Report (aka PMR) provides all the relevant information on all critical and highly exploitable vulnerabilities. Users can use PMRs to prioritize their patch management. PMRs are updated every two weeks. Each PMR summarizes around 100 of the most critical vulnerabilities during the period in a table, and lists all the essential information about these vulnerabilities, such as the affected products, patching details, and even publicly available PoC codes.
Summary
ThreatVision, developed by TeamT5, is a game-changer in the fight against Advanced Persistent Threats. With our unparalleled expertise in the Asia-Pacific region, ThreatVision provides actionable threat intelligence that empowers governments and companies to make informed decisions, proactively manage risks, and swiftly respond to cyber incidents. As the cyber threat landscape continues to evolve, ThreatVision stands ready to protect organizations and secure the digital world against APTs.
To get started, contact your TeamT5 representative and apply for a 14 day ThreatVision trial account, or email us at
[email protected]
if you are new to our products and wish to learn more. We look forward to keeping your organization safe.
Related Post